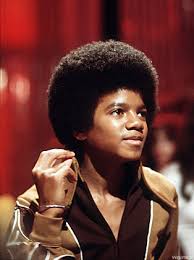 My dad was in the navy when I was a kid and we moved frequently.  In the 60's and 70's, we crossed the country 5 times by car, my sister, brother and I trying to keep from killing each other in the backseat of our red Chevelle.  On trip 4 from Pennsylvania to San Francisco, things were getting pretty tense between my sister and myself in one of those "I" states when my mom flipped the radio to a pop station.  A few minutes later, we were dancing in the back to Michael Jackson's soaring falsetto singing A-B-C, 1-2-3.  As long as Michael was singing, we called a temporary truce.  Michael Jackson saved my sister's life.
We grew up with Michael.  It was hit after hit during the 60's and early 70's and we knew every word.  "Ohhhh, baby give me one more chance"  On Saturday mornings while the PUs slept in, my sister and I munched our Captain Crunch and watched the animated cartoon adventures of The Jackson Five.  We thought he was just an average kid, like us.  He had brothers, he liked to sing, he got to travel around the world, his family was Jehovah's Witness.  Yep, totally normal.
Well, there was that love song he sang to a rat but we figured it made sense in the movie.
Time passed.  We moved on to other music.  Heart for me; Steve Miller for my sister.  We came out of  the disco era relatively untouched.  We were too young to go to the clubs.  I went to college and discovered Leo Kotke, Pure Prairie League and the Eagles.  I figured Michael Jackson was off pulling all nighters too.
We resurfaced together.  One night, my mom called me to watch a something on TV.  "Do you know who that is?", she asked.  It took me a minute.  There on the screen was the face of a black angel on the body of Fred Astaire, alternately strutting and gliding across the floor.  My jaw dropped, "THAT'S Michael Jackson?!"  If it hadn't been for the instantly recognizable light head voice, I almost wouldn't have known him.  His physicality and  performance wasn't anything like his brothers'.  He was his own creation.
And what a creation.  Thriller was so big.  It was hit after hit again.  The video format was perfect for Michael.  The songs were stories with narrative arcs.  The dancing was precision.  How did he do that?
Then the bad times came.  He burned his scalp.  He wore the glove.  He erased the black angel and retreated behind his plastic mask.  He built a fantasy world and hid in it.  His savvy business decisions made him a fortune and attracted the good and the bad.  When the accusations of child molestation started, I hoped it wasn't true.  I hoped he was just a victim of our generation of fear or some fortune hunter who exploited his predilection for recapturing his lost youth by surrounding himself with real children.  I don't know how much of an effect his family's religion had on him but he wouldn't be the first Jehovah's Witness kid who felt like he lost out on a real childhood.
Then he disappeared again.  Once in awhile, we'd see him do something, um, unorthodox.  I thought it was probably better for him to stay out of the spotlight.  He had a habit of attracting the wrong attention and it was clear that the public just didn't understand.
Brooke called me to tell me Michael died.  Cardiac arrest, they say, caused by a disruption to the heart's electrical signals.  Prescription drugs were mentioned.  The Big Satan researcher in me says a hERG problem.  It can happen.  Who knows what off label use he was testing?  I feel for his children who he clearly loved and enjoyed.
May they remember him as fondly as I do.
Goodbye Michael.  Thanks for leaving your music behind.
My favorite Michael Jackson video is Black or White.  It highlights his dancing at its prime.  The embed has been disabled so you can find it here.
Share your memories of Jackson with us tonight on Conflucians Say at 10PM EST.
---
Please Digg!!! Tweet!!! Share!!!
Add to: Facebook | Digg | Del.icio.us | Stumbleupon | Reddit | Blinklist | Twitter | Technorati | Furl | Newsvine
Filed under: General | Tagged: Michael Jackson | 65 Comments »